Sexism in League of Legends
With the sneak peek of Nami hitting the General Discussion forums on Riot's website, an old discussion has showed its face once again: the Sexist League of Legends.
Nami is one of the Merfolk and therefore half human and half fish. It is interesting to see how the Riot artists have turned this fishy woman into a sexy warrior: by peeling off her fish skin to reveal an impressive human cleavage.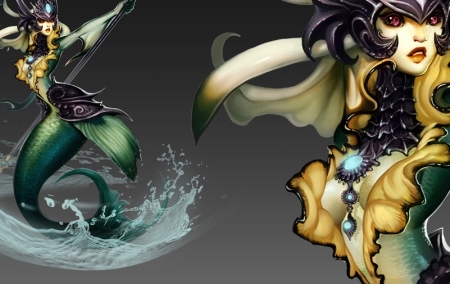 After the recent full-breasted releases of Elise, Syndra, Diana and Zyra, some Summoners have spoken up and argued they want less voluptuous specimens of the female persuasion to join the Fields of Justice. Some even get carried away a little and accuse Riot of sexism.
No one can deny that most female characters in League were rewarded handsomely by the bosom department and the portrayal of women is indeed a little one-sided. However that isn't what sexism is exactly. Sexism is a prejudice towards a sex as a whole or denying women the chance in a certain position. Saying girls can't do Physics and therefore aren't allowed in the classroom would be sexist, for example. This doesn't seem to be the case in League of Legends though: female characters can be played in every role in the game, so there isn't a prejudice towards what women can and can't do.
If we look at the role of support we see an overwhelming majority of women being forced into that position and this can be argued to be sexist. "The women should assist." Interestingly enough, the jungler is also an assist position and, barring Shyvana, there doesn't seem to be any real viable female jungler present. However, the game winners are often said to be the AP and AD Carries and there's tons of women in those positions. There are a few few bad-ass ladies kicking ass in toplane as well - though they are by far in the minority.
Even though the portrayal of women is one-sided, we also have to keep in mind that playing video-games is a form of escapism. Just as in other entertainment media: sex sells. How many "ugly" actresses earn good wages in Hollywood? I am not saying we should close our eyes because in other industries they have their eyes shut tight, but it is something that needs to be taken into consideration.
Now The Evil Morello has hinted at the final champion to enter the League this year on the forums. While discussing strong female characters he replied,
You will be very pleased with our final release of the year.
And added later to clarify,
I mean badass female, specifically.
We'll just have to wait and see how big the bosom of this new champion will be. Perhaps Riot has stept away from the stereotype game babe already or maybe it'll be boys being hypnotized by the bouncing mounts of female flesh once again...
@MlazzyLoL
Sources:
Nami Sneak Peek
,
Morello on the Forums
Related Content: