Unconventional Supports & Those Who Could Fill Other Roles
posted by
NoMgc
,
3 years ago
The label "support" has been around since beta and ever since, support champions have been one of the least played as well as least desirable classes in all of League of Legends. But why is that?
Well to most players, support champions tend to be one of the least rewarding group of champions due to the lack of "carry potential". But champions labeled as support along with the support play style are rarely mutually exclusive. That is why this is one of my favorite aspects of League of Legends and one of the biggest reasons how the game play has been able to evolve throughout the years.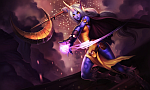 Being a League of Legends player since Pre-Season One, I have seen my fair share of people trying to break the boundaries of what a support champion can and can't do. I love to see champions such as Alistar and Soraka breaking through the support barrier and invading other roles on the team because it wasn't really all that long ago when a "mid-raka" or mid Zilean would have just been laughed at or simply rage inducing to some members of your team. Still, how can someone know that a specific support could fill another role on the team? Well, to be honest it's all about the build and the player becoming one with the champion, this is what causes this phenomenon of picks like top lane Lulu to occur and actually work. Yet without brave players willing to experiment, LoL would not be what it is today. So I applaud all the mid lane Tarics and AD Carry Sonas for paving the way for other such "support" champions in order to diversify what a champion labeled as support could do as well as who could be a support(in terms of play style).
One of the best things about the support play style is the diversification of which champions can be played as support. If you have ever played support at high ELO or at least have seen top tier support players in action, you should have heard about the three aspects that can make or break a support. The three are heals and shields, crowd control, and aggression; all top tier support tend to fall under two of these, if not all. However, you may have noticed many other champions, other than those categorized as support, could easily fit into at least two of these categories. This could cause teams to come up with an absurd amount of support/AD combinations, thus allowing the bottom lane experience to have a certain air of surprise and excitement when playing in blind mode or even in a draft style game. Never truly knowing beforehand if that Fiddlestick pick is going to be jungle, mid, or [yes] even support is what keeps me coming back to LoL.
So if you ask me why Riot rarely makes new support champions, I would respond by saying "
What are you talking about they make a new support almost every two week
" and soon after you might be able to catch me playing something like support Rengar while maniacally laughing as I lead my team to victory.
Related Content: