Professionalism in League of Legends
Many non-gamers look sceptically at the word eSports. How can clicking a mouse here and tapping a keyboard there even be considered a sport? But more and more companies see the worth of eSports in general and League of Legends in particular.
Media Coverage

Only a short while ago, the attendees of a game event were ridiculed by a journalist of a local newspaper who asked how often those young males showered and pondered how Clearasil should have been the event's sponsor. But the bigger media outlets start to see the worth of eSports and articles about it pop up every now and then. Founded in 1917, Forbes is a successful bi-weekly business magazine that opened its digital doors in 1996 and they published a
series of articles
covering League of Legends and some of its best-known players, for example.

A week ago, BBC – the world's biggest broadcaster – published an
article
about the newly introduced Honor Initiative. These publications are but two examples of how the scene is growing and how it is getting noticed by the mainstream media, followed by the more serious news gatherer. It will take a while for eSports to become as big in the western world as it is in Asia. In Korea there is already a TV network dedicated to eSports (OnGameNet) and the question is not 'if' but 'when' Europe and North America will take the plunge.
Betting

The first betting company that seems to have caught up on the idea of eSports is digibet.com. This website lets you put money on StarCraft II and League of Legends matches. You can bet on which team wins a map or which player gets First Blood, for instance. With real money at stake, the matches will become more interesting for the viewers which subsequently will draw in an even bigger audience. We'll have to wait and see whether the betting on League is going to make digibet.com any money so that other betting agencies will follow suit.
Players' Professionalism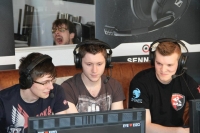 It is interesting to see that with media coverage and a betting portal, the scene is taken more and more seriously. But why do so many people remain sceptical about the idea of eSports? Personally, I believe some of the pro-players are partly to be blamed for this. With their young age they don't yet have the maturity which they should have. In the past two weeks alone several incidents have taken place to showcase this: SK Gaming gets disqualified from The Siege tournament because players didn't show up; Alternate is thrown out of this season's EPS due to accumulating too many penalty points; H2k Gaming reschedules a tournament match at the last possible moment. The players should be backed by organizations that keep them in line. Gaming houses might partly take care of this problem because a manager could guarantee that the players will show up in time for a tournament.
Another problem is the ongoing raging of players. Even with the Honor Initiative and the Tribunal in place, many toxic players slip through. It doesn't help when screenshots of raging pro-players turn up on Reddit.
With more and more money being poured into the competitive League of Legend scene, it is of the essence to keep the momentum going. Every casual player can contribute to the success just by being an active and responsible player. Follow the
Summoner's Code
and enjoy the game to the fullest in a positive manner. You are part of the biggest game in eSports history and it will grow into a bigger monster every day. Be prepared, Summoners!
@MlazzyLoL
Sources:
Forbes Articles
,
BBC Article
,
Summoner's Code
Related Content: