in2LOL Season 2 Finals Preview: Saigon Jokers & NaJin Sword
posted by
Camouflage23
,
3 years ago
The fourth edition of the Season 2 Championship is here and we will take a look at
Saigon Jokers and
NaJin Sword!
First, we will be looking at the Vietnamese team from Group B. They are the relatively unknown team Saigon Jokers.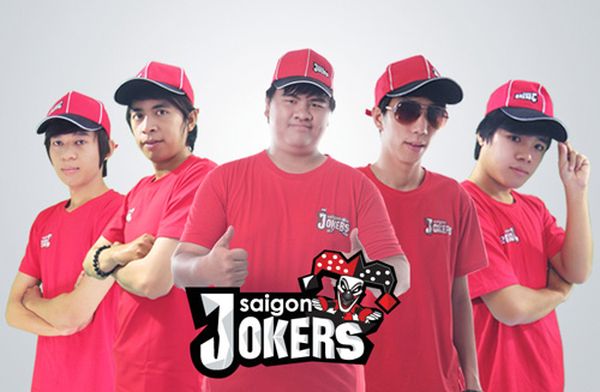 Line Up
Mai '
NIXWATER
' Nhat Tan - AP Carry
Tran '
Archie
' Minh Nhut - AD Carry
Tran '
Junie
' Huu Nhut Minh - Support
Nguyễn '
QTV
' Trần Tường Vũ - Solo Top
Ngo '
Violet
' Manh Quyen - Jungle
Team Breakdown
Saigon Jokers were formed in April 2012. They were formed by Garena in order to compete in the Garena Premier League tournament. They are currently third in the standings of the tournament. They had to fight hard in the South East Asian Regionals. They came from the loser bracket to take home the title as the best team from the South East Asian Region! They took out the favourites
Singapore Sentinals in the grand final in order to earn their place in the Season 2 Championships in LA! Not much is known about the Vietnamese team. They are the most inexperienced team in the Season 2 Championships and most have already written them off! However, they might be able to pull off an upset as they did in the South East Asian Regionals.
Player Spotlight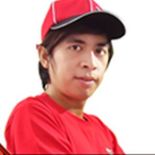 SAJ NIXWATER
Unconventional play is what Saigon Jokers are known for and NIXWATER is the one that starts everything from playing Leblanc mid with teleport to Malphite, he is the player that makes the team. He was also the top ranked solo queue player on the SEA Server during Season 1. He was regarded as the best mid player on the server as he could roam around the map and crush his lane at the same time. He needs to be on his A Game for Saigon Jokers to stand a chance to qualify from their tough group!
Players
Solo Top
The team's solo top is one of the most feared solo top players on the SEA server.
Nguyễn '
QTV
' Trần Tường Vũ, who is known for his great Irelia play, is a solid top laner and usually wins his lane with an iron fist. He was a very important player during the South East Asian Regionals victory! He will certainly be a player to look out for during the tournament.
Support
Tran '
Junie
' Huu Nhut Minh was the AD Carry of the team before he moved into the support role. Due to his experience in the AD Carry role, he has a great understanding of how to protect his AD Carry. One of his favourite champions is Blitzcrank! During the SEA Regionals, his Blitzcrank was banned almost every game!
Jungle
Ngo '
Violet
' Manh Quyen is well known for several champions in solo queue and tournament matches. Maokai, Lee Sin and Malphite are his best champions and consequentially usually banned by the enemy team as they fear his constant lane pressure. He is one of the two founding members of Saigon Jokers when the team was formed alongside Archie!
AD Carry
Tran '
Archie
' Minh Nhut was playing support in the DOTA scene but now he has moved to the AD Carry position for League of Legends. His understanding of the AD Carry champions such as Graves will make him a force to be reckoned with. His Graves almost singlehandedly took out Singapore Sentinels in the SEA Regionals Grand Finals. No team should underestimate him as he is no scrub when it comes to MOBA games!
_________________________________________________________________________
The second team we cover today are the Korean newcomers
NaJin Sword. They are in Group B with
Saigon Jokers,
Counter Logic Gaming and
Dignitas.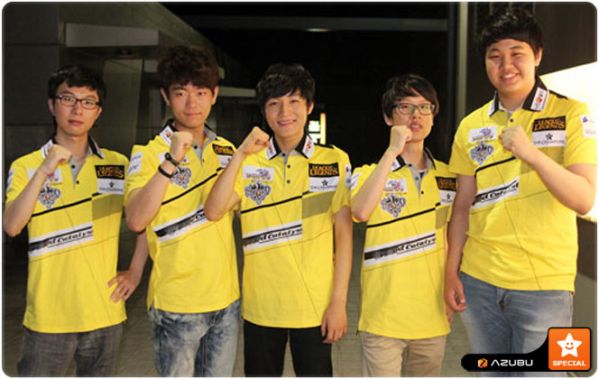 Line Up
Yoon '
MakNooN
' Ha-woon – Top
Cho '
Watch
' Jae-geol – Jungle
Kim '
SSONG
' Sung-soo – AP Carry
Kim '
PraY
' Jong-in – AD Carry
Jang '
Cain
' Nu-ruh – Support
Team Breakdown
NaJin Sword is the second League of Legends team which is sponsored by NaJin Corporation. The other team is NaJin Shield. NaJin Sword is captained by the former top laner of the legendary EDG and NaJin e-mFire team,
MakNooN. NaJin Sword is considered to be the second team to NaJin Shield but they made people think otherwise when they took 3rd place in the
Azubu The Champions Summer 2012. By taking 3rd, they had enough circuit points to compete in the Korea Regionals where they took out
Azubu Blaze in a thrilling Best-Of-5 Match. Their win made sure that there wouldn't be two Azubu teams going to the World Championships!
Player Spotlight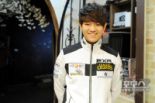 NJN MakNooN
MakNooN is one of the oldest competitive League of Legends players in Korea. He started playing on the NA Server before switching to the Korean one when it first opened up. He also has a lot of LAN experience as he played in the WCG 2010 held in Busan, Korea and also in the Riot World Invitationals. He was famous for bringing out "Dunkmaster Yi" during the second game of the World Invitationals. He can play a lot of champions which is a plus for his team. With his knowledge about the game and his LAN experience, he will be an important player for NaJin Sword in the World Championships!
Counter Logic Gaming's Jungler, Snoopeh said that MakNooN is one of the best Top Laners in the world when asked in his
Reddit AMA Thread
.
Players
AP Carry
Kim '
SSONG
' Sung-soo holds the mid lane for NaJin Sword. He usually plays passively and will farm much better than his opponent as he focusses on CS during the early game. He has a very big champion pool which makes it hard for opposing teams to ban him out.
Support
Jang '
Cain
' Nu-ruh is the most dependable member of the team. He's the oldest member of the team and has an amicable personality. Due to his attitude and great understanding of the game, he is a great support player. He can play both aggresively and passive supports which is a great thing for the team!
Jungle
Cho '
Watch
' Jae-geol is a former StarCraft: Blood War professional. He played Protoss during his StarCraft days but now holds the jungle for NaJin Sword. His great micro skills from StarCraft make him a great jungler as he can oversee what is happening all around the map in a split second. He is also the newest member in the team alongside PraY.
AD Carry
Kim '
PraY
' Jong-in is one of the best AD Carries in the competitive League of Legends scene. His last-hitting skills are among the best in the game which helps him hit the 6 item carry much faster than other people do. He also has great micro which helps him with positioning in team fights. This allows him to deal tons of damage during team fights!
Stay tuned to in2LOL as we will be releasing more team previews in the coming week.
Let us know in the comments below: What do you think of these two teams participating in the Season 2 Championship?
Sources:
Najin Sword's Picture
,
MakNoon's Picture
,
Saigon Jokers' Picture
Related Content: