in2LOL Season 2 Finals Preview: CLG.eu & Dignitas
posted by
Novacaine_One
,
3 years ago
The third episode of in2LOL's Season 2 previews will cover the European division of Counter Logic Gaming and the North American powerhouse Team Dignitas.
The first team we are going to take a look at is
Counter Logic Gaming
. They are currently boot-camping with their North American counterpart in a mansion in California to prepare for their tough groups. CLG.eu is looking for a flawless performance, as they were not able to win the last three major offline events.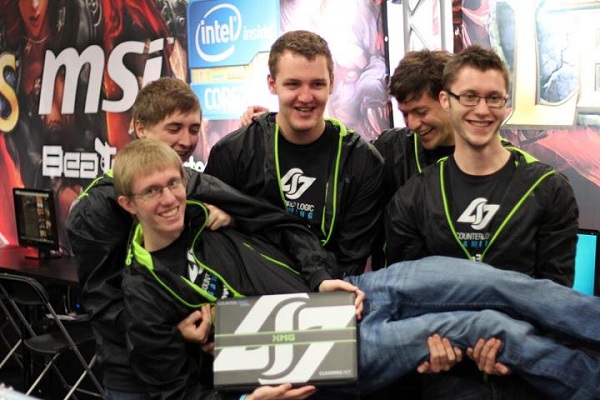 Line Up
Mike
'Wickd'
Petersen - Solo Top
Mitch
'Krepo'
Voorspoels - Support
Peter
'Yellowpete'
Wüppen - AD Carry
Henrik
'Froggen'
Hansen - AP Carry
Stephen
'Snoopeh'
Ellis - Jungle
Team Breakdown
CLG
's current roster first played as the team
AbsoluteLegends
. After a couple of changes they found the right line up and have been staying together ever since. In December 2011 Counter Logic Gaming and AbsoluteLegends decided to merge. However, their partnership didn't go as expected and they decided to part ways with the roster staying at CLG. From this point on the team known as CLG.eu participated in numerous online and offline tournaments where they showed their true strength and established themselves in the world elite of competitive play. CLG won their first competitive tournament in late January. They beat
Moscow Five
and were officially crowned the Kings of Europe. From this point on they started to receive a lot more attention and people's expectation started to rise. They didn't disappoint and kept winning European online events, such as the Absolute Pro League and the Fnatic PLAY Cup. In April 2012, CLG qualified for their first offline event, the Gamers Assembly in France. They placed third, not being able to beat
Sypher
and
Absolute Legends
. But their online winning streak continued with the Corsair Vengance Cup, the in2LOL Kickoff Tournament and the Medion Challenge. Their first overseas tournament was the MLG Spring Championship which took place in Anaheim, California. The competition was fierce as all the best teams from North America and Europe where there to battle. Unfortunately, CLG.eu only managed to place 5th, dropping out of the double elimination bracket after losing to
Team SoloMid
and
CLG.Prime
. Their next offline event was only a week later, the Dreamhack Summer 2012. If CLG.eu were not considered to be one of the world's best teams going into the tournament, they certainly were after it ended. They are still the only team in the world so far which was able to defeat
Moscow Five
in an offline event. They even did it twice in the tournament in Sweden. Beating M5 in the group stage and the grand final makes CLG.eu the well deserved winner of Dreamhack. This victory gave them enough Circuit Points to secure a spot at the European Regional Finals. One month after their glorious victory, CLG.eu was invited to Korea to participate in the OGN Summer Championship and to live there for three months. CLG played surprisingly well, considering that all the other western teams didn't perform very well against Korean teams. CLG.eu took the second place only losing to
Azubu Frost
. During their stay in Korea they had to travel to Europe twice to participate in Circuit Events. However, they didn't do well enough to win either of these tournaments. They placed 2nd at ECC: Poland, only losing to
Moscow Five
and placed 3rd at the European Regionals, after losing to
SK Gaming
.
Player Spotlight
CLG Krepo
Mitch
'Krepo'
Voorspoels' competitive career started with a French team called
Fureur
. At a later stage he joined
La GG
. At this point he was still entirely unknown in the competitive scene until he was picked up by
AbsoluteLegends
. There is always a risk in picking up players who haven't proven themselves as much as other players yet but in this case Krepo hit like a bomb. He is now considered one of the best supports in Europe, known for his aggressive Blitzcrank and Leona and his exceptionally good synergy with Yellowpete. Referring to himself as "Scumbag Krepo" he's the perfect counterpart to Yellowpete who is rather calm and level-headed. Together as "Scumbag Krepo and Good Guy Yellowpete" they are crushing botlanes left and right.
Players
AD Carry
Peter
'Yellowpete'
Wüppen had the highest Solo Queue rating on the European server in Season 1. This has drawn a lot of attention to him and he was picked up by many teams but he never really achieved any big successes with his teams until he was picked up by his current team. Yellowpete is one of the few people in the competitive scene who still play Kog'maw. It's his favourite champion and he prefers him over the holy trinity of Ezreal, Corki and Graves.
Jungle
Stephen
'Snoopeh'
Ellis has been around in the competitive scene for a while now. Before he started being a full-time competitive player Snoopeh did his honors degree in computer science and business management. After the IEM Global Challenge Snoopeh replaced WetDreaM at
SK Gaming
. He was playing alongside Wickd for a few months at SK.
AP Carry
The first thing you associate with
Henrik
'Froggen'
Hansen is definitely his godlike Anivia. A must-ban when playing against CLG.eu. But Froggen wouldn't be such a top tier midlaner if he were only capable of a single champion. His champion pool is massive which makes it almost impossible to outban him. Especially known for his AP Kog'maw, he always performs exceptionally well. Everyone who has been following the competitive scene for a while will remember his legendary Kog'maw play at the MLG Spring Championship against TSM ending up with a score of 16/0/9.
Solo Top
The player with the most experience in the team is certainly
Mike
'Wickd'
Petersen. He joined
SK Gaming
in 2010 and stuck with the team for about one year until he left because of internal problems in October, 2011. He created a new team with WetDreaM who was the CEO of AbsoluteLegends. Wickd is especially known for his Irelia which is a threat at every state of the game.
___________________________________________________________________________________________________
Team Dignitas
is the North American participant of Group B. They have a lot of experience and attended major tournaments like IGN Pro League, MLG Championships, Intel Extreme Masters and OGN The Champions.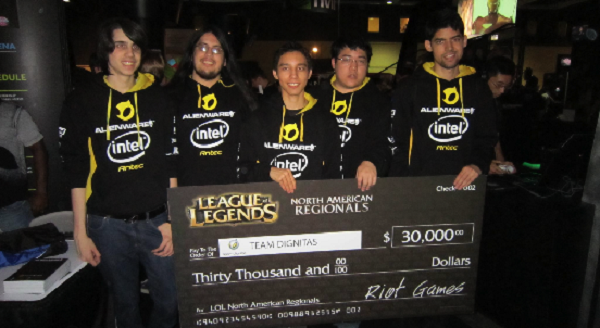 Line Up
William
'Scarra'
Li - AP Carry
Michael
'ImaQtPie'
Santana - AD Carry
Christian
'IWillDominate'
Rivera - Jungle
Alberto
'Crumbzz'
Rengifo - Solo Top
Jordan
'Patoy'
Blackburn - Support
Team Breakdown
Exactly seven days ago was the first anniversary of
Team Dignitas
' League of Legends division. Only Scarra and ImaQtPie are still part of the original team from back then. Jatt, Yoyboy and L0cust have either been removed or left the team voluntarily. Voyboy was replaced by Crumbzz as part of the triple swap in May 2012 during which Voyboy went to
CLG.Prime
, Saintvicious to
Curse Gaming
and Crumbzz to Dignitas. Their roster has been very stable since then, considering that there have been only three changes throughout more than a year. Dignitas achieved their first huge success at IPL 3 in Atlantic City, New Jersey. They beat
Epik Gamer
in the grand final. They also won the LolPro Curse Invitational. The final stage of this tournament was held offline and Dignitas won the Prize Finals against
Curse Gaming
. Despite attending a lot of major events, those were in fact the only ones they were able to win. Though they managed to place in the Top 3 in tournaments like MLG Providence 2011, losing to
Epik Gamer
and
Team SoloMid
in the double elimination bracket. The IEM Global Challenge Kiev, being defeated once again by
Team SoloMid
in the semi finals. The IEM World Championship Hanover, losing the grand final against the russian powerhouse
Moscow Five
. IPL 4 Las Vegas, again not being able to defeat
Team SoloMid
and getting knocked out in the loser's bracket by
CLG.Prime
. MLG Spring Championship, losing to the same teams again and finally the North American Regionals, only losing the grand final against
Team SoloMid
. According to their statistics, Dignitas should definitely avoid facing TSM in the Season 2 World Championship.
Player Spotlight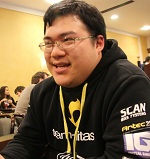 Dignitas Scarra
William
'Scarra'
Li, one of the most popular streamers in League of Legends has always shown loyality to his team. He's been playing on the same team for nearly two years now with the only change being the sponsor. Rock Solid was acquired by Team Dignitas. A lot has changed around Scarra but he always stayed the same. None of his teammates from the original Rock Solid roster are on the team anymore. Scarra himself has been playing since the beta, establishing himself in the top of the Solo Queue ladder very early. He is known for his Katarina play, which after two years is still his favourite champion.
Players
Solo Top
Alberto
'Crumbzz'
Rengifo has joined Dignitas in May, 2012. One of the main reasons was because he was not able to move into the Curse gaming appartement. He replaced Voyboy in the top lane. Crumbzz has proven himself numerous times and always performed on the highest level. He is especially dreaded for his Jax but is capable of playing any other bruiser as well.
AD Carry
Michael
'ImaQtPie'
Santana currently holds the record for the longest hair in the competitive scene. Nevertheless he's still an exceptionally good AD Carry. His favourite pick is Corki. He is also known for picking Twitch or Evelynn in tournaments only to switch in the last second. People wonder if this is supposed to leave the opponent less time to react to the pick or just plain trolling.
Support
The newest addition to Team Dignitas is
Jordan
'Patoy'
Blackburn. He replaced L0cust after Dignitas' disappointing results in Korea. Patoy used to man the Support role for
Monomaniac Dominatus
, a squad of the big organization Monomaniac eSports.
Jungle
Christian
'IWillDominate'
Rivera does what he's best at. He dominates the laning phase due to his extremely high and well-coordinated jungle presence. He is able to play nearly every jungle to perfection. He also seems to be very emotional about the game. While celebrating their victory over
CLG.Prime
IWillDominate smashed his headset. And everyone will remember the touching pictures after Dignitas beat CLG at the Regionals securing them a spot at the Season 2 Finals when IWillDominate and Crumbzz were doing some manly celebration hugs.
Make sure to stay tuned for the last preview of Group B featuring
Saigon Jokers
and
NaJin Sword
!
Sources:
Picture 1
,
Picture 2
,
Picture 3
,
Picture 4
Related Content: