Ocelote signs one of the highest personal sponsorings in recent LoL history
posted by
Jan
,
3 years ago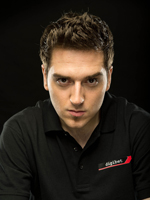 Carlos Rodriguez 'Ocelote' Santiago. You know the name. You watch the games. And so does digibet.com. The provider of online sports bets decided that the Spanish LoL player has enough stardom to warrant a personal sponsoring.
eSports has come a long way since it took its first baby steps over a decade ago. While you probably won't hear your mother talk about how dreamy the new line-up of Acer is, players like Ocelote have build up enough fame to turn the occasional nerd into a screaming and weeping pile of fanboy-ism.
This prompted
digibet.com
to take matters into their own hands. Tom Lemke, Marketing Manager of digibet.com and co-founder of the German eSports clan Mousesports, has the following to say:
eSports saw a rampant growth in popularity and relevance during the last years, making it an absolute mass phenomenon. As one of Europe's biggest sports betting providers, it is natural for us to not only provide eSports bets but to support eSports as a whole. We are thrilled to announce our sponsoring deal with Ocelote. He is the perfect ambassador for eSports and our eSports bets. Seeing how he is a young, dynamic, ambitious and sympathetic athlete, I'm confident that we can expect a lot from him in the future.
Of course, Ocelote isn't too miserable about the whole affair either. His statement on receiving a four-digit monthly paycheck just for being Ocelote:
After they explained their eSports concept to me I was on fire. When a company from outside the industry tries to understand eSports it's often very hard for them. With the guys from digibet I instantly had the feeling they knew what they were talking about. This is not a PR stunt. They are in it for the long run. […]
After they showed me the storyboard for the TV spot I knew they understood me and eSports. Everything was done in such a professional way. So guys watch out for the new digibet TV spot. It will be released in a few days!
It isn't the 100 Million Dollar deal between Michael Jordan and Nike, but it sure is promising to see one of your favorite LoL players getting his own sponsorship deal. Who knows, next year you might be able to drink from your favorite Ocelote cup, slide your feet into comfy Ocelote sneakers and snuggle a cute and plushy Ocelote doll.
Sources:
Ocelote landing page
Related Content: