The Siege - 2nd Group Stage
posted by
IceH
,
3 years ago

The dust has settled and only twelve teams remain after the first round of The Siege. The top three of each group advance into the second and final group stage. Once more they will play it out to determine the top seeds, before they have to face each other eye-to-eye in the double-elimination knock out phase.
Packed with highly accomplished teams, the second group stage is still nothing but an appetizer for the entailing playoffs in which the last eight teams will go to war for the overall prize pool of €10.000.
At the end of this stage, the best team of every group moves on to the upper bracket while the runner-up steps into the lower bracket. The 3rd place finisher is eliminated from the tournament.
Groups:
Group A
Group B
Group C
Group D
MoscowFive
Warsaw Five
Team Curse.eu
FnaticRaidCall
mousesports
Gamehoppers
SK Gaming
Eloblade
Tt Dragons
SmartPeople (x6)
ex-LogiX
Team ALTERNATE
An important aspect of the transition to round two is that the teams are allowed to change their line-up in order to adjust to the upcoming challenges. Teams who would have been well advised to rethink their line-up are
MeetYourMakers
,
Peluquerieas Naruterador
,
AbsoluteLegends.Omega
and
Team MegashocK
. They didn't shine throughout the first round and will have to watch from the sidelines.
Stay tuned as The Siege continues into the next round. Every detail of it, including further information on the upcoming matches, will be available exclusively on in2LOL. So keep your eyes open and don't go away!
To build up even more excitement for in2LOL's The Siege tournament, we have decided to raffle off gaming equipment from our sponsors Razer and AOC. The prizes are:
AOC-E2795VH monitor

Razer Naga Hex mouse

Razer Anansi keyboard

Razer Scarab mouse pad
To win these prizes name your firstborn Razer or AOC. Or leave an extraordinary comment below
this news
. Your call.
The raffle ends tomorrow at 18:00 CEST!
(Shipping to European destinations is free, otherwise postal charges and customs may be required)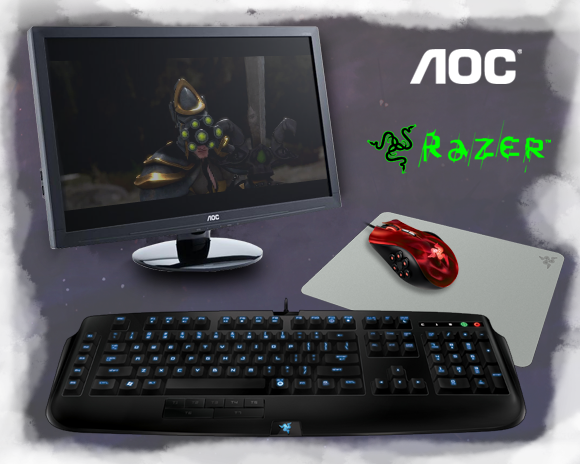 The Siege Schedule:
Date
Time
Matches
23.09.
Sun
15:00 CEST
Curse
vs.
ex-LogiX
23.09.
Sun
17:00 CEST
Curse
vs.
SK
23.09.
Sun
19:00 CEST
M5
vs.
Mouz
23.09.
Sun
21:00 CEST
Warsaw Five
vs.
Gamehoppers
24.09.
Mon
17:00 CEST
M5
vs.
tT
24.09.
Mon
19:00 CEST
Eloblade
vs.
aTn
25.09.
Tue
19:00 CEST
Warsaw Five
vs.
Smart People
25.09.
Tue
21:00 CEST
FnaticRC
vs.
Eloblade
26.09.
Wed
18:00 CEST
Mouz
vs.
tT
26.09.
Wed
20:00 CEST
SK
vs.
ex-LogiX
27.09.
Thu
17:00 CEST
FnaticRC
vs.
aTn
27.09.
Thu
19:00 CEST
Gamehoppers
vs.
Smart People
Related Content: