The Siege - Raffle Time
posted by
nickDigger
,
3 years ago
The first stage of The Siege is over. Twelve teams emerge from the first group phase to set their eyes on the big prize. So far, none of the favorites have faltered and we can prepare ourselves for a star-packed second group stage.
To build up even more excitement and because they are just all-around nice guys our sponsors
Razer
and
AOC
decided to churn out several pieces of high end gaming equipment.
To get the most important question right out of the way: What do you need to do to win? Name your firstborn Razer or AOC. Or leave an extraordinary comment below. Your call.
A mere investment of ten seconds of your life (or a lifelong grudge of your offspring) gives you a shot at the following prices: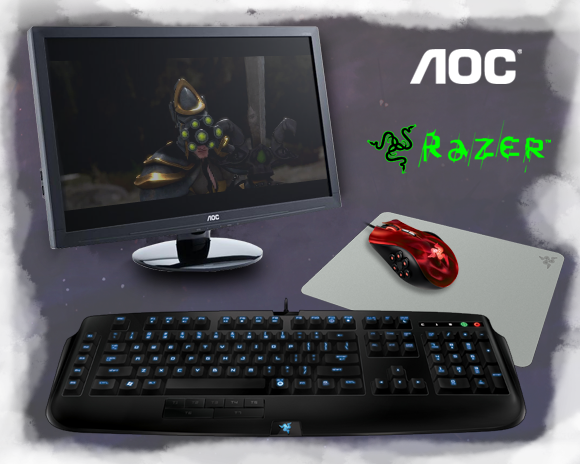 AOC - E2795VH
No compromises: The e2795Vh is perfect for office and action. This Full HD large-screen monitor with integrated speakers not only looks fantastic.
Razer - Naga Hex
The Razer Naga Hex features 6 large mechanical thumb buttons specially optimized for MOBA and action-RPG user interfaces. Every pro-gamer can map their 6 favored spells, abilities, and items to these buttons for rapid actuation.
Razer - Anansi
The Razer Anansi's fully-programmable keys allow you to further expand your repertoire of boss-killing macros, giving you total control with convenient and instantaneous command executions.
Razer - Scarab
The Razer Scarab features Fractal 2.0, an advanced iteration of the Razer Fractal technology surface first seen on the Razer Destructor. Putting crystalline coating on the peaks of the grained surface to differentiate against the darker troughs, sensors can identify positions significantly faster and more accurate allowing the Razer Scarab to deliver superior tracking.
Extraordinary comments increase your odds of winning. Naming your child puts your chances into overdrive. Good luck to everyone who is entering the raffle!
(Shipping to European destinations is free, otherwise postal charges and customs may be required)
Sources:
Razer
,
AOC
Related Content: