Have You Met: Carmac - Creator of IEM
posted by
Methis
,
3 years ago

Michael '
Carmac
' Blicharz is the head behind the Intel Extreme Masters. in2LOL got in touch with him to talk about his life in Germany, working full time in eSports, integrating League of Legends in the Intel Extreme Masters and his point of view on the community in general.
Back in Poland where he grew up, Carmac was known to the young school girls as "grzeczny" which meant something like "very good boy." He was a self-confessed 'epicly' good child.
Carmac currently resides in Cologne, Germany but misses the atmosphere of Poland, he feels like it is one of the coolest countries you could ever live in and that Germany doesn't come too close to it. "
Germany's been really good to me. I hope I don't offend anyone, but the food in Germany unfortunately does not even compare to Poland, Italy or the US.
"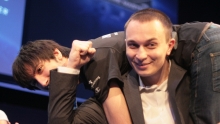 He is often told that he comes off as rude to people unintentionally, he doesn't call people names but he skips the 'appropriate manners' and focuses on getting the job done. He sees the way he acts around people as an asset, feeling as though it has assisted him in his journalism by taking away the fear of offending people and being able to ask the really tough questions while phrasing it in a non-offensive manner.
Carmac is a self-confessed geek, he owns 600 Warhammer models and paints them. He is also a gamer, currently grinding gear in Diablo 3 despite the strain on his index finger. "
And because of the fact that at the time of answering the interview my index finger hurts from farming magical items in Diablo 3.
" Besides of PC games he was very successful in Sports as well, obtaining a black belt in judo. Unfortunately, he has no time to keep practicing it anymore, although he really misses it. "
I am getting rusty and fat and the best way to lose fat is to burn fat.
"
He doesn't feel as though he is a very popular man and often recounts a story of a flight to London. He was in an airport in Kraków, waiting to be checked in when he noticed a young man looking as if he was preparing to stalk him. The man was visibly shy, and was staring in Carmac's direction as if he was trying to approach him. Carmac thought he had finally been recognized. When the man eventually confronted Carmac it was with a question "Sorry, could you help me out? It's my first time at an airport and I don't know what to do to get checked in." He feels like this explains his 'fame' well and although he gets recognized at eSports events he doesn't really pay attention to it, while acknowledging that it does feel good to be liked by an abundance of people.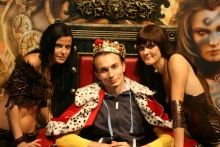 Working full time in the eSports industry was never planned. Carmac wrote for a small community website called ESReality for three years, voluntarily. After that he was suddenly offered a position from GGL and one week after that he was making a full time living off of eSports.
It reached a point in Carmac's career that he had decided to move on from the GGL, he never advertised it but already had two offers on the table. One of the offers was from SK Gaming and the other was from another gaming team, Carmac leant towards SK because he didn't believe in the project of the other team. Although he no longer works with SK Gaming he remains in contact on a personal level with some of the people he met there. "
If it wasn't for Reis, their player manager, I would probably have died of hunger in Germany. You can find me in the Korean restaurant he recommended to me more or less once a week! :)
" He takes very little credit for the success of SK Gaming's website, claiming he merely provided regular content that no other website was giving.
Although he wasn't actively looking for work, work still managed to find him and he feels extremely fortunate that the IEM hired him as product manager for the IEM at Turtle Entertainment. "
I had the most amazing luck that opportunities just showed up at the right time.
" He had no experience on paper that would give off the impression of experience in the field, but they saw something in him and gave him a chance that he took with both hands. So when the previous IEM product manager had to quit to finish his university degree Carmac stepped in and picked up his responsibilities.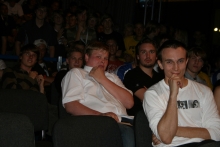 His success with the IEM showed when the Cebit halls had to be closed at IEM 2011 and 2012 in Hannover due to overfilling with eSports interested people. Carmac was impressed by especially the fact that "
our hall was the first ever hall in the history of CeBIT that got closed due to going over capacity with people. It's certainly something worth telling people about!
" Carmac is doing a great job with a lot of different people, organizing the IEM, even though the coordination of the project across many continents with 5-6 companies involved makes it difficult sometimes. The only motivation to improve the organization of the IEM he needs is always trying to have an eye on producing a perfect eSports show and loving to have created something that people enjoy. "
To carry out a project of such enormous magnitude, to manage to not break anything (except records) and to walk out healthy from all of it... it provides a gigantic sense of achievement.
"
Carmac's favourite moment in eSports was when the Polish CS team Frag eXecutioners beat SK gaming in the semi-finals in the 2011 Intel Extreme Masters World Championship. His job entails him building something, and to see how much people care and the amount of emotion they release is phenomenal to him.
"
To release so much emotion after a match was phenomenal. I hope this happens more and more often.
"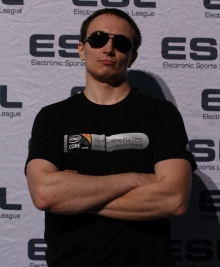 By supporting League of Legends he managed to increase online viewer numbers by 1000%, which he never expected to happen. He didn't think that League of Legends would have such an impact, but he is appreciating all the effort Riot Games is putting towards developing the eSports experience for the League of Legends community. He also thinks that the push Riot made towards eSports is completely unprecedented in the industry. As long as the money is spent very wisely, Carmac doesn't mind the increase of prize money within the League of Legends scene and he thinks that really huge sums are good to attract outside attention to eSports while they are not necessarily needed for eSports at the current stage. eSports is better at the moment than it has ever been due to the popularity and simple access to streams. In his opinion it is not in the cycle to become mainstream , even though he would love it to be. At least pro gaming is not a secret to the world anymore. Although the majority of people is not yet interested enough in eSports, they know that it exists and are not scared of it.
No company at this point can carry esports forward alone. It's all our efforts combined that will make a difference, even though some companies would certainly love to have a monopoly (which would set us back as a whole 2-3 years, if it happens). We need to keep working together and keep making sure that not only our broadcasts are top notch, but also that there are grassroots mechanisms that deliver new top players into the scene.
Carmac didn't really need to push to give the League of Legends players the opportunity to play at big tournaments with a high amount of prize money. The LoL community left the ESL no choice since they swarmed the signups of all online competitions like the Go4LoL and the ESL Major Series. It proved that the game deserves to be one of their most prestigious competitions.
One of the things Carmac doesn't like is comparing games and their scenes with each other. He would like people to focus on things of real matter: "
a) Is there a big community that wants to compete? b) Is the game technically fit to run esports competitions? c) Does the better team win most of the time?
"
About PC Gaming in general he used to be fascinated by the idea that people can find themselves in a virtual space and interact with others "
as in: shoot at them with a rocket launcher
". Carmac loves the fact that people can become a part of each other's amazing moments in life but also that they can gather together and be excited about watching extremely talented players showing off their skills in game.
Being asked for advice for currently well-known progamers on how to help the League of Legends community/scene becoming a decent eSports title, he would like them to know that...
…the current pro gamers should certainly try to make the most of their current fame and status and make sure that they're able to move on to something else. Like it or not, someone better and younger will come one day. So if you're a pro gamer, keep your eyes open and learn as much as you can about anything you can.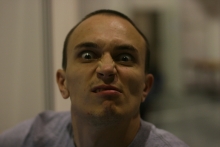 Aside from that he doesn't see any definable difference between League of Legends pro-gamers and other games' pros in terms of behaviour and communication at offline but also online events. It is a matter of interest to him though to see how different games seem to attract different kinds of personalities. "
Quake players behave differently from SC2 players and CS teams behave differently from LoL teams. You can't really explain it - you need to experience it.
"
In the League of Legends scene Carmac is better known as '
Uszat
' – a Ukrainian guy who speaks a broken English and presumes pro-gamers in interviews to be unprofessional. He decided Uszat to be Ukrainian because he is half Polish and half Russian "
so I land half way georgraphically? ;-) I need to hide my Polish nationality so that there's no possible connection between USZAT and Carmac. Someone might know that Carmac is Polish and there's a tiny chance that they could figure it out. and we don't want them to figure it out, right?
".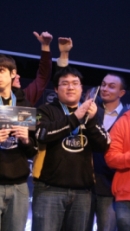 Everybody should have at least heard of his
Scarra troll interview
where Uszat asks him whether his "team are have tomorrow big". In his
second interview
, Scarra meets Carmac and not Uszat. Carmac finds his Uszat role amusing and obviously loves to troll other gamers. He loves doing funny things. Additionally, he gets to know a person better by viewing their reactions in an unusual situation. "
Does the guy try to be nice and helpful, does the guy get very confused, does the guy stay professional all the way through, or try to subtly make fun of the interviewer? It's very, very cool to observe.
" In the beginning he used to laugh about his own trolls, but getting into the character intensively helps him a lot, so he manages to pretend to be Uszat successfully, without laughing himself.
As Uszat he gets to meet many different people in eSports. One of his favorite interviews was with a gamer girl. "
I spanked Jessica Chobot once, and how many people get to say that?
"
To the question if there is an Uszat who inspired him to take over his name, Carmac replied with this
video
.
Carmac's most favorite person connected with League of Legends is Scarra, because he is "
a truly, genuinely nice guy, always with a smile on his face.
" He admires Korean pro gamers in general for the work ethic they have and for what they do in order to "
become those superhuman beings that beat the White Dudes all the time :)
", while outside of eSports he has admiration for anyone who is totally outstanding in their craft. He doesn't admire one single person the most, although he admits he does love the Fight Club and Se7en director, David Fincher a little too much.
Sources:
Pictures
Related Content: