The Crowning of the Season 3 World Champions Nears!
posted by
Archy18
,
2 years ago
It has been a very long and arduous road before a team can claim the Summoner's Cup in the Grand Final later this week. Not only did every single team have to fight hard to even qualify for the World Championships, but they have been forced through a gauntlet of 12 of the world's best teams to make it through to the Final.

Their date with destiny nears, and at 20:00 PDT on the 4th of October, Korea's
SK Telecom T1
and China's
Royal Club Huang Zu
will take to the stage at the Staples Center in Los Angeles to fight it out in this Season's final Best-of-5 series to determine just who will lift the Summoner's Cup. The World will soon find out which team will join
Fnatic
(the Season 1 champions) and the
Taipei Assassins
(the Season 2 champions) as the third League of Legends World Champions!
Both teams have produced incredible displays in the Korean Champions and Chinese LPL respectively to qualify, incredibly strong form which has continued into the World Championships themselves. It is hard to look at any other team in the tournament and say that they deserve to be in the Grand Final any more than these two great teams. First, the two finalists will be discussed, before a look at the Grand Final match-up itself.
---
SK Telecom T1
The Team
The current roster of
SK Telecom T1
actually used to be the organisation's second roster. However, following the performance of both teams in the 2013 Spring tournaments, huge roster changes occurred. As a result, the original team, including
Bok
'Reapered'
Han-guy, were released, and only the second team remained, and took their place as the organisation's sole professional League of Legends team.

Hugely hyped, the team would take to the 2013 Champions Summer and prove all expectations, with dominant performances from the Group Stages to the Finals. It would be here that they would participate in League of Legends' first Korean "telecommunication final". The SK Telecom and KT Rolster telecommunications and e-Sports organisations have had huge rivalries since even before League of Legends within the StarCraft arena, and it is no surprise that this rivalry has now extended to League of Legends.
---
Top Lane -
Jung

'Impact'

Uhn-young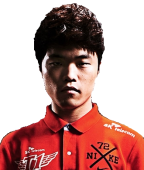 Originally a Top Laner for
Xenics Storm
before he shifted position down to Support in the Bot Lane,
'Impact'
had to learn Top Lane again after nearly a year of playing Support. He may not be the best carry top laner, or have the most utility; but he is a "Jack of All Trades". Though he started primarily with tanky initiators in the Top Lane, but has since grown into the role and added more carry top laners into his repertoire.
One of the players who brought Solo Top
Zac
to the competitive scene,
'Impact'
has a huge champion pool, and there are few other players who have played as many different champions as he has during the World Championships. We have seen him bring out 7 different champions including
Kennen
,
Shen
, and
Jax
. Strong and effective even in a 1 v 2 lane, his decision-making and solid play make him incredibly dependable.
---
Jungle -
Bae

'Bengi'

Seong-un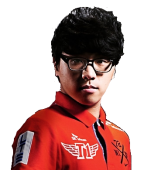 Originally from the Korean amateur team
BBT
,
'Bengi'
was scouted and added to
SK Telecom's
roster following his team's exit from the 2012-2013 Winter NLB tournament. Always solid, seemingly blessed with a sense of when to gank, when to counter-gank, and brilliant objective control;
'Bengi'
is an incredible asset to his team. Particularly in the early game, his focus on mobility and vision control enables him to support his teammates all over the map.
The first player to pick
Zac
in a competitive match, as well as the one to popularise the
Vi
ganking combo with an Assassin in the mid lane,
'Bengi'
has made spectacular plays in the Jungle, including during the World Championships. His only two competitive games on
Aatrox
have come during the World Championships, but his mainstay seems to be
Lee Sin
, and his play on it has even drawn bans. Significant numbers of Assists every game prove his utility to his team, the effectiveness of his ganks, and his incredible map presence.
---
Mid Lane -
Lee

'Faker'

Sang-hyeok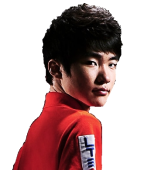 The super star of the team and the most hyped player at the World Championships,
'Faker'
is an incredibly skilled mid-lane player, considered the best in Korea, and maybe even the entire world. His performances in Korea, especially one game against
then-
MVP Blue
, where he went 10/0/1 on
LeBlanc
in 18 minutes to force a 20 minute surrender, has led him to become the one player every single other mid-laner has wanted to face most in the World Championships.
Known for his highly aggressive playstyle, it is no surprise that he is a master of Assassin champs, especially
Zed
. This, however, does not mean
'Faker'
is limited to only playing Assassins, and he is also strong on more farm-heavy and utility based-champions such as
Orianna
. He also counts rarer picks such as
Syndra
and
Kassadin
among his extensive champion pool. His most-played champion in the World Championships so far is
Ahri
, with whom he has had considerable success, although he has also played
Riven
as a counter-pick to
Zed
. What else does
'Faker'
have up his sleeve in the biggest match of his career so far?
---
AD Carry -
Chea

'Piglet'

Gwan-jin
Like
'Faker'
,
'Piglet'
was found from the upper echelons of Korea's Solo Queue. As such, his pick-up by SK Telecom would lead to the start of his professional League of Legends career. Despite both performance and external issues,
'Piglet'
has matured into one of the best AD Carries in the world. However, with such a star-studded line-up around him, it could be easy to overlook his performances and importance to his team.
Originally known for his solid play on female champions, especially
Vayne
,
'Piglet'
has since expanded his AD Carry champion pool significantly. Also known as one of the strongest
Caitlyn
players around, he has also shown great skill on
Ezreal
and
Corki
. Boasting the highest KDA ratio of any player at the World Championships with an astounding ratio of 9.7, he has only had 2 sub-par games. Particularly devastating on
Vayne
and
Ezreal
,
'Piglet'
has been playing consistently at a high level during this tournament. Considered the underdog by most against
Kim
'Pray'
Jong-in and
Jang
'Cain'
Nu-ri, it was
'Piglet'
who stole the show with an incredible 21/6/23 across all 5 games.
---
Support -
Lee

'PoohManDu'

Jung-hyun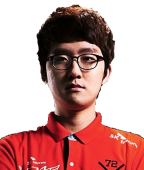 'PoohManDu'
has long been known as an innovator within the Korean professional League of Legends scene. Famously, he played jungle
Heimerdinger
to lead kr:
GSG
to victory and qualification for Champions Winter 2012-2013. His impressive skills and innovation were definitely eye-catching, and he would be recruited from the amateur team by
SK Telecom
to be their team captain. While sometimes his aggression and bloodthirstiness has gotten the better of him,
'PoohManDu'
is the master of turning games around.
Known for unconventional support picks including
LeBlanc
,
Mordekaiser
, and
Fiddlesticks
, it was his
Nami
plays in Champions Summer which was especially eye-catching, with an impressive 10 wins and 1 loss record. That is not to say he is a one trick pony though, as he has played 8 games of
Zyra
in the World Championships, with only 2 losses. Additionally,
'PoohManDu'
also boasts 100% win rates on both
Sona
and
Thresh
. With an average KDA ratio of 3.6, the World will wait to see what he brings out in the Grand Finals. Will we see the more popular supports? Or will he pioneer yet another new unconventional support pick?
---
The Road to Qualification:
SK Telecom T1 definitely had to prove their mettle in order to take their place among the World's Best at Los Angeles. The victory of the Korean Champions team at the
2013 All-Star Shanghai
was instrumental in seeing
SK Telecom T1
qualify, as SK Telecom T1 was actually the third and final Korean team to qualify. Even right from the outset,
SK Telecom T1
faced an uphill battle. Unlike the other regions, teams from Korea would qualify not through the most recent League of Legends competition, but would qualify from attaining Circuit Points from Korea's two most important tournaments: Champions, and NLB, of which Season 3 saw three separate tournaments. The first were the Winter 2012-2013 tournaments, followed by Spring 2013 tournaments, and finally, the Summer 2013 tournaments.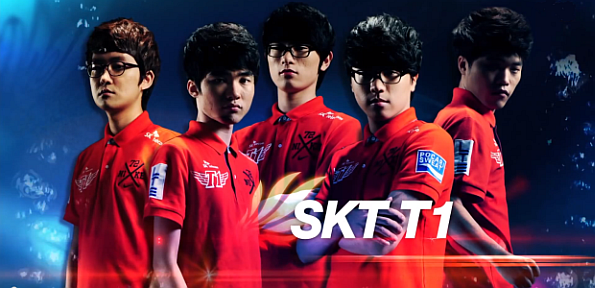 However,
SK Telecom T1
did not form until the Winter 2012-2013 tournaments had already finished, thus already putting the team at a serious disadvantage in their attempts to make it through to the World Championships. Thus solid results saw
NaJin Black Sword
and
Samsung Galaxy Ozone
take the top two places in the Ciruit Standings to guarantee their place at the World Championships. Thanks largely to their victory in the Champions Winter 2012-2013,
NaJin Black Sword
managed to take first place, and therefore a Bye through the Group Stages to seed them directly into the Quarter Finals.
The third and final Korean position at the Season 3 World Championsips was to be decided through a separate tournament. As such, the teams ranked 3rd to 6th on the Ciruit Standings would have to face off in a "Gauntlet" format, where the lowest ranked team had to win in order to progress on to the next match, which would pit them against the next ranked team. Joining
SK Telecom T1
were strong line-ups from the
KT Rolster Bullets
,
CJ Entus Frost
, and
CJ Entus Blaze
. The
KT Rolster Bullets
had an amazing run, running through the entire gauntlet until the final game, where they fell to
SK Telecom T1
in the Grand Final, a repeat of the Champions Summer 2013 Grand Final, booking
'Faker'
and his teammates their ticket to the United States.
---
Their Performance at the World Championships:
Thrust into Group A alongside
OMG
,
Lemondogs
,
Team SoloMid
, and
GamingGear.eu
,
SK Telecom T1
was expected to easily make it out of their group, and they did not disappoint, dominating their group alongside the Chinese team. A string of incredibly strong performances saw them make their mark, and although they lost an early game to
OMG
, that one loss would prove to be their sole loss during the entire Group Stage. As such, both
SK Telecom T1
and
OMG
would progress in equal 1st position, with 7-1 records.

The Quarter Finals saw
SK Telecom drawn against South-East Asia's sole representative, Taiwan's
Gamania Bears
. This was a repeat of the Season 2 Quarter Finals which saw the
Taipei Assassins
sweep
Yoon
'MakNoon'
Ha-Woon's
NaJin Sword
on their way to victory. However, this season would see a different outcome, with the Korean team sweeping the
Gamania Bears
in dominating fashion to book their place in the Semi Finals.
The first Semi Final would pit
SK Telecom T1
against the only other Korean team left in the tournament,
NaJin Black Sword
, who defeated
Gambit Gaming
2-1 to set up the mouthwatering clash between the two Korean titans. In an incredibly tight series, it was
SK Telecom T1
who came from behind twice to clinch the series 3-2, and take their place in the Grand Final.
---
---
Royal Club Huang Zu

The Team
Comparatively new to the e-Sports scene, Royal Club was founded in mid-2012. The organisation consists of two squads, one "primary" squad, which is the one participating in the World Championships, and a "training" squad. However,
Royal Club Huang Zu
would always face stiff opposition, and as such would sometimes struggle to place well, especially when competing against the likes of
World Elite
and
Invictus Gaming
at their height of their powers between Seasons 2 and 3, and during the early stages of Season 3.
However, a number of roster changes, including the retirement and then the return of
'Tabe'
and the elevation of
Wh1t3zZ
and
'Godlike'
from the secondary team would see a shift in fortunes for the team in terms of performance, although they still fly under the radar, even to Chinese fans. One key thing to note about their Semi Final victory against
Fnatic
is their incredible ability to come from behind: despite accumulating 92 deaths to 64 kills,
Royal Club's
superior laning and objective control ensured little, if any gold difference, and to their victory.
---
Top Lane -
Xiao

'Godlike'

Wang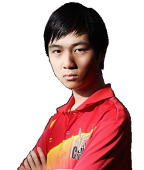 A newcomer to the Professional e-Sports scene,
Royal Club Huang Zu
is the first pro League team that
'Godlike'
has joined. Maintaining an intense practice schedule, even among Chinese professional League of Legends players,
'Godlike'
knows the intricacies of every role, not just his own. Solid in his own role, he is an able split pusher, duelist, and damage sponge depending on what his team requires.
Known as the Chinese "God of Renekton", he is also known as a high-level
Nasus
and
Shen
player. However, the World Championships have seen him play more than just
Renekton
, which has been banned against him. He has also been successful on other popular Top Lane picks such as
Jax
during the tournament.
---
Jungle -
Liu

'Lucky'

Jun Jie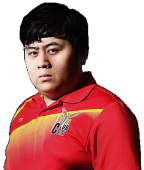 A long-time League of Legends player who managed to get into the Top ELO 50 rankings in both Seasons 1 and 2 despite playing from China,
'Lucky'
first played professionally for
EHOME
as their Support before the team disbanded in 2012. Transitioning to the Jungle position when he joined
Royal Club
, he has found a preference for aggressive junglers, preferring to force jungle pressure onto the enemy, although this has at times, led him to being caught on the invade.
His aggressive playstyle has predisposed him towards aggressive and playmaking junglers such as
Aatrox
and
Lee Sin
. However, the World Championships have shown that his current priority jungler is
Elise
, whom he has played in 5 out of 6 games so far. However, he has also performed well on
Jarvan IV
. Also known as the "King of Smiting", he has been unbeatable with his Smites on 50/50 Baron attempts, something which could be a key turning point in the Grand Final.
---
Mid Lane -
Pun

'Wh1t3zZ'

Wai Lo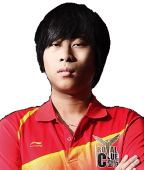 'Wh1t3zZ'
has been around the block several times during his professional career, and has been a member of 7 different teams prior to his recruitment by
Royal Club
, including powerhouses such as
Invictus Gaming
and
OMG
. Acquiring a Top 10 Solo Queue Ranking, and being a close friend of
Shan
'Chaox'
Huang,
'Wh1t3zZ'
is also extremely familiar with the NA League of Legends scene. He is very aggressive, and more than willing to fight if he thinks he has the slightest chance of getting a kill. This is both a great strength and weakness of his playstyle.
Possessing a huge champion pool, it was
'Wh1t3zZ'
who popularized
Twisted Fate
in China. Capable of playing both Assassins and farm-oriented champions, he has also counter-picked the opposition. Although
'Wh1t3zZ'
has favoured playmaking champions such as
Fizz
,
Kassadin
, and
Gragas
in the past, it is with
Orianna
that he has performed best in the World Championships.
---
AD Carry -
Jian

'Uzi'

Zi Hao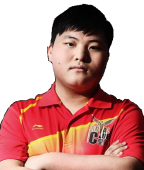 The youngest player at the World Championships at just 16,
'Uzi'
was just 15 when he first joined
Royal Club
. Despite his young age,
he is considered one of the most mechanically gifted and positionally aware AD Carries. Even when compared to impressive Chinese AD Carries such as
Guo
'San'
Jun Liang,
Ge
'Kid'
Yan, and
Gao
'WeiXiao'
Xue Cheng,
'Uzi'
is rated very highly. Nicknamed "Puppy",
Royal Club
plays around a "Protect the Puppy" strategy to allow their hyper-carry to win the game. His aggressive calling will be incredibly important to his team's chances of victory.
He is well-known for his
Caitlyn
, but it is his
Vayne
which has been most awe-inspiring during the World Championships. While he has also played
Ezreal
and
Corki
, it was his
Vayne
which saw 3 consecutive bans during the Semi Finals. Boasting the highest Gold Per Minute and the highest Average Gold Per Game,
Uzi
had been the key to
Royal Club's
successes. Although he has demonstrated an ability to outfarm the opposition AD Carry into submission, he has sometimes paid for not respecting his opponent's kill potential. Still, he has come out strong when needed, and has led his team to victory after victory.
---
Support -
Pak

'Tabe'

Kan Wong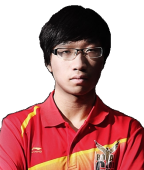 The Team Captain, spokesman, and "Older Brother" of the team,
'Tabe'
is quite possibly the most-loved player present at the World Championships. This is not only because of his clutch plays; but also his humble demeanour, strict self-criticism, eloquence, honesty, and most importantly, his incredible singing voice. Originally playing as an AD Carry for
Invictus Gaming
, he made the switch to Support, before joining
OMG
and then
Royal Club
. Following a brief two month stint in retirement, he made a return to
Royal Club
in an attempt to lead them to the Summoner's Cup before he retires once again. A core member of the team,
'Tabe'
also serves as an analyst and helps with creating his team's strategies and ideas.
'Tabe'
is also known for unconventional supports such as
Cassiopeia
. He is a master of Flash engages to lock down the enemy team with CC in order to allow an easy teamfight victory, although he may sacrifice himself in the process. He has played
Sona
and
Lulu
during the World Championships, although it is his
Annie
which has drawn all the attention, with brilliant clutch plays leading to her being banned 4 times against him.
---
The Road to Qualification:
Despite their strong performances,
Royal Club Huang Zu
is one of the less popular teams within the Chinese professional scene. When one has to compete regularly with the likes of
World Elite
,
Invictus Gaming
,
OMG
, and
Positive Energy
; it becomes easy to be underestimated.
The Season 3 Regional Finals consisted of 4 teams: the top two teams from the 2013 Spring and Summer seasons of the Chinese LPL.
Positive Energy
,
Invictus Gaming
,
OMG
, and
Royal Club Huang Zu
were the 4 teams which participated in the offline Qualifier.
Royal Club
booked their spot in the qualifier with their fine performance in the 2013 Summer LPL tournament, which saw them finish 13-8 and in equal second position with
Positive Energy
.
The first round of the Double Elimination Bracket saw
Royal Club
knock
Invictus Gaming
to the Loser's Bracket after a 2-0 Round 1 Win. However, a 2-1 loss to
OMG
meant that
Royal Club
would need to face off against
Invictus Gaming
again to determine who would make it to the World Championships. In the end, it was
Royal Club
who progressed, and then proceeded to sweep
OMG
, despite starting with a one game disadvantage due to coming from the Loser's Bracket. This secured
Royal Club
first place, and a Bye which saw them seeded directly into the Quarter Finals.
---
Their Performance at the World Championships:
Blessed with a Bye in the Group Stages due to their first place finish in the Chinese Qualifiers,
Royal Club
was able to spend the time practicing and studying their potential opponents in the Quarter Finals instead of concentrating on trying to get through the Group Stages. And they used this time well, drawn against arch-rivals
OMG
in the Quarter Finals. Despite their 3-1 victory in the Chinese qualifiers,
Royal Club
was still seen to be the underdogs. However, expectations of
OMG's
superiority were quickly crushed by
Royal Club
, who were extremely impressive in securing a 2-0 victory.
The Semi Final would see them matched up against European Champions
Fnatic
, who defeated
Cloud 9
to book their place in the Semi Final.
Fnatic
were the overwhelming favourites to progress, but it was
Royal Club
who proved stronger. Maintaining similar bans, adapting every game and then performing strongly, saw them prove their strength on their way to an upset 3-1 victory and a Grand Final showdown with
SK Telecom T1
to decide the Season 3 Champions.
---
---
The Grand Final - The Match-Ups
The Solo Lanes
Both
'Impact'
and
'Godlike'
have been solid, if not spectacular players for their respective teams, with much of the focus revolving around the Solo Mid and AD Carries. Both Top Laners are strong with large champion pools, though
Renekton
has been the most picked champion for both Top Laners. Due to the likelihood of 2 v 1 lane swaps, champions which can handle 1 v 2 lanes then transition well into the mid and late-game are highly prized, which explains both players' preferences for champions like
Shen
and
Renekton
. Whichever Solo Top gets ahead will be important as this will transition into a dominance of early fights through increased tankiness.
'Wh1t3zZ'
has been the underdog so far in both sets of games for
Royal Club
, firstly against
OMG's
Yu
'Cool'
Jia Jun and then against
Fnatic's
Enrique
'xPeke'
Cedeño. However, not only did
Royal Club
emerge victorious from both matches, but
'Wh1t3zZ'
has also managed to do exceptionally well against both the Chinese and European MVPs. Against the hugely-hyped
'Faker-senpai'
,
'Wh1t3zZ'
will trust in his own abilities and not be afraid of going head-to-head. With both Mid-Laners specialising in Assassins like
Ahri
,
Zed
, and
Fizz
; these champions are likely to be either picked or banned.
---
The Jungle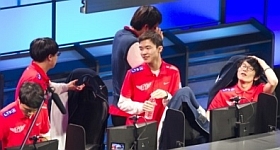 Both
'Bengi'
and
'Lucky'
are aggressive early junglers, often ganking and invading.
'Bengi'
, however, is a unique jungler due to his early focus on mobility and vision. Among the Junglers, none have been as quick as he has to focus on gaining vision control all over the map. It will be interesting to see how
'Lucky'
will deal with
'Bengi'
and his ward heavy early and mid-game as greater vision will mean failed ganks. Additionally, both are familiar with the dynamics of lane switches. As such, they are often in position to support the Solo Laner in the 1 v 2, be it for a counter-gank to prevent a 3 v 1 tower dive, or to initiate a tower dive gank. However, the most crucial role for both Junglers would be the maintenance of Objective Control, especially Dragon and Baron. While
'Bengi'
has largely been faultless,
'Lucky'
has been incredibly skilled, successfully initiating and then finishing 50/50 Barons to secure significant advantages for his team, enabling them to snowball to a win.
'Bengi'
has played
Lee Sin
in over half of his games, while in 5 out of 6 games,
'Lucky'
has picked
Elise
.
---
The Duo Lanes
The Bot Lane of
'Uzi'
and
'Tabe'
has been hyped up as the strongest in the tournament, even exceeding that of
Samsung Galaxy Ozone's
Gu
'Imp'
Sung-bin and
Cho
'Mata'
Se-hyeong. However, it must be remembered that
SK Telecom T1
did defeat
Samsung Galaxy Ozone
in the Semi Finals of Champions Summer 2013. As such, people should be extremely wary of underestimating "The One Hundred Acre Lane" of
'Piglet'
and
'PoohManDu'
. While
'Uzi'
is currently leading both the GPM and Average Gold per Game stats,
'Piglet'
is close behind in the GPM stats, with a mere 17 gold separating the two - not even a Health Potion! The truly frightening stat, however, lies in the KDA column.
'Piglet'
and his incredible KDA of 9.7 is at least double that of any of his teammates, and triple that of the players he will face in the Finals.
Caitlyn
,
Ezreal
, and
Vayne
have been the most picked AD Carries between the two, although
Vayne
has been banned against them.
---
Priorities
Possible Bans/Picks
Already known as an adaptive team who often starts shakily but then makes it up,
SK Telecom T1
has proven their adaptability in past matches. So too, has
Royal Club Huang Zu
shown their adaptability during the World Championships. As the matches have progressed, particularly in the Semi Finals, both teams have adapted their bans and picks to counter the moves made by their opponents. As such, the two teams have changed their bans to counter specific threats such as
Gragas
and
Aatrox
. The Pick/Ban phase will be extremely crucial to both teams and their chances for victory.

While both Top Lanes have pretty expansive champion pools, common points of contention could include
Shen
and his global presence, the late-game carry potential of
Jax
, and the early and mid-game strength of
Renekton
. However, unless
Jax
starts causing problems, or
Shen's
global presence becomes too much, the Top Lane is unlikely to see much attention in the Ban Phase.
While both Junglers have other Junglers in their back pockets, either team might try to exploit the seeming over-reliance on
Lee Sin
and
Elise
by
'Bengi'
and
'Lucky'
, respectively. Both Junglers have also favoured
Jarvan IV
in the past, so the Exemplar of Demacia could once more make his way onto the Fields of Justice.
Aatrox
, however, is unlikely to be picked again by
'Bengi'
.
Vi's
incredible gank potential, especially with her Ultimate, may also see her picked or banned. Korean teams, in particular, favour the
Vi
in tandom with
Ahri
, a combination which was used by
SK Telecom
in the first Quarter Final against the
Gamania Bears
.
In the Semi Final match-up between
SK Telecom T1
and
NaJin Black Sword
,
Kim
'Nagne'
used
Gragas
to great effect, eventually forcing out the ban in the last 2 games which contributed to
SK Telecom's
eventual victory.
'Wh1t3zZ'
has played
Gragas
, but will he pick the Rabble Rouser in the Grand Final? Would it be dangerous enough to warrant a ban from
SK Telecom T1
? Furthermore,
Orianna
came out huge in the Semi Finals for every mid-laner who picked her, with a 100% win rate in 6 out of 8 games played during the Semi Finals. With
'Faker'
acquiring a combined 12/4/22 in 3 wins, and
'Wh1t3zZ'
going 12/5/19 in 2 wins;
Orianna
may also become a priority for both teams.
Zed
has been banned almost every game this tournament, and the one time either team had
Zed
available,
'Wh1t3zZ'
destroyed his opponent and carried with a 7/2/7 performance.
Zed
is simply too dangerous to be left to either Mid Laner.
Unlike some of the other AD Carries in the tournament who have played a variety of champions such as
Kog'Maw
,
Ashe
, and
Varus
;
'Piglet'
and
'Uzi'
have not played as many different champions. The 21 games played so far by these 2 have so far only yielded 4 picks:
Caitlyn
,
Corki
,
Ezreal
, and
Vayne
. The two are particularly well-known for their
Vayne
play, so she is likely to be picked or banned. Both players have also ably demonstrated their silky skills on
Caitlyn
and
Ezreal
to great effect as well. While
Zyra
has been picked most often by
'PoohManDu'
, it is unlikely to see a ban. In contrast,
Annie
has been banned 4 times against
'Tabe'
. In the two games in which she wasn't banned, she was used to great effect, and was hugely instrumental in
Royal Club's
victories.
SK Telecom
would be wise to keep
Annie
away from
'Tabe'
.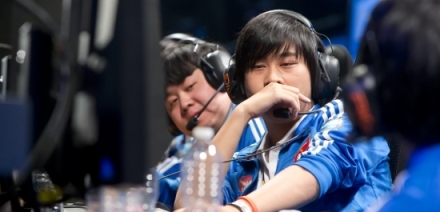 ---
Objectives
Royal Club Huang Zu
will look to
'Tabe'
for map control, especially with Pink Wards and Oracles. As such, at the end of his games, his inventory looks incredibly empty; as he has never had more than Boots of Mobility, Ruby Sightstone and Kindlegem. He has also ended a game with just Boots of Speed and Green Wards. While this frees up Item Slots and Gold on his teammates for further items, this also sets himself much further behind. His team will need to follow-up on his engages and protect him while he clears out wards. In contrast, particularly in the early and mid- games, almost every single member of
SK Telecom T1
helps out in the Vision Battle, with
'Bengi'
particularly notable for placing down a Pink Ward and then Safeguarding to it to clear out enemy wards before disappearing back into the Fog of War. The Vision Battle will be key, allowing for greater objective control (including Blue Buff), and allowing for the opportunity for picks, especially when the other team attempts to regain vision control. It will also be interesting to see whether either team will attempt to put down a deep ward at Level 1 to gain vision of a lane for an advantageous 2 v 1 lane match-up.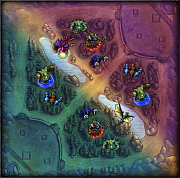 Closely aligned with Vision and Map Control is Buff and Objective Control.
'Lucky'
has been the undisputed "King of Smiting" of the tournament so far, but
'Bengi'
is no pushover in the Smite department. The Junglers will be very important to Objective Control, especially if lane swaps come in and 2 v 1 lanes occur. 3 v 1 dives, tower pushes, and Junglers babysitting the 1 v 2 will be important. Jungler plays could lead to objectives such as an early tower or dragon, especially within the first 10 minutes. The Smite battle between
'Bengi'
and
'Lucky'
will be extremely important - both have been on point, but a single steal could turn a game on its head. Rotations, especially by the duo lanes, will also be important, as not only could these result in pick opportunities, but slow reactions could lead to a loss in towers and therefore map presence.
Whereas traditionally, teams would set up in a 1-1-2 formation with a Jungler, the current meta allows for a much greater diversity in lane dynamics and match-ups. As such, we may not see too many straight-up fights between the 2 Solo Lanes and the Duo Lane. Lane swaps mean that we could see a 2 v 1 not only in a side lane, but possibly also in mid. If/when lane swaps do occur, the team that plays the 1 v 2 better will have an advantage. A lot of focus will naturally be on the Mid Lane, with the hypyed up and eagerly anticipated match-up between
'Faker'
and
'Wh1t3zZ'
. Both incredibly skilled players, a large pool of champions and a propensity to counter-pick their opponent such as
Riven
into
Zed
and
Kayle
into
Fizz
makes this an incredibly drool-worthy match-up. The Duo Lane will also be incredibly important, wherever they go. Especially for
Royal Club
, who play around the hyper-carry ability of
'Uzi'
, the lane phase is extremely important. However,
'Piglet'
has been playing phenomenally this tournament. As such, he has played some truly outrageous games, including 5 perfect games without a death. In what shapes up to be the series-defining match-up, whichever Duo Lane comes out on top at the end of the lane phase will have given their team a huge advantage.
If
SK Telecom
has done their research, do not expect
Royal Club
to be able to bring out their infamous "Bearshark" strategy involving the devastating wombo-combo of
'Wh1t3zZ'
on
Fizz
and
'Tabe'
on
Annie
. In contrast to the huge teamfights demonstrated by
Royal Club
, could
SK Telecom
bring out the fast-push strategy that provided them with a 13 minute inhibitor and their victory against
OMG
in the Group Stages? Both teams are also incredibly aggressive. As a Chinese team,
Royal Club
is likely to be expected to be a more aggressive team due to the Chinese meta. This observation has been born out in the large number of fights and kills that we have seen out of the Chinese teams so far, especially the finalists. This is not to say that
SK Telecom
like to play passively and do not want to fight. Both teams have demonstrated a willingness to trade kills if those kills will allow them to gain objectives such as inhibitors, turrets, dragons, or Barons. The Level 1 strategies of both teams could also be a flashpoint, with Royal Club engaging in two 5-man Level 1 fights in the Semi Finals without First Blood being given by either team. SK Telecom has also invaded at Level 1 for vision and buffs, although this is one area where they have been exposed at times, such as the First Blood given by
'Faker'
against
Lemondogs
. Although
Royal Club
has had shaky starts to games,
SK Telecom
cannot get overconfident. As shown by their victory over
Fnatic
, the Chinese team has the skills and knowledge to overcome kill and gold deficits to make a comeback. That said, whichever team gets ahead needs to snowball their early advantage, most likely to be off the back of their junglers. We have seen
SK Telecom
go for early Barons, but against the Smite King in
'Lucky'
, the Korean team may not be as willing to take the risk if they can possibly avoid it.
---
So, what do you think about this year's Finalists? Do we have worthy finalists this year? Are there any other teams you would have liked to have seen in the World Championships? Let us know your thoughts, including your predictions on the second team to see their name etched onto the Summoner's Cup in the comments section below!
Sources:
LoL eSports
,
SKT images
Related Content:
No comments yet.