in2LOL Interviews #1 Ranked 'ForellenLord'
posted by
Methis
,
3 years ago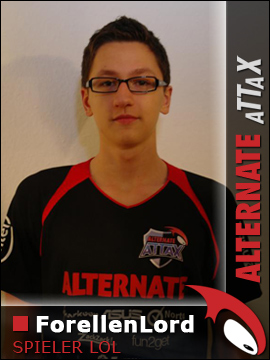 in2LOL got the chance to get an interview with
Carl
'ForellenLord'
Lückmann, AP Carry of
Team Alternate. It focused on his gaming career, being #1 in stats worldwide, the Season 2 regional finals at Gamescom and their first fight against
CLG.
Despite his young age (he just recently turned 18)
Carl
'ForellenLord'
Lückmann is already one of Germany's best players. Born in Bochum, a city in western Germany, he used to play Warcraft 3 and Age of Empires before some friends introduced him to League of Legends.
After showing his strength and skill playing some online tournaments with his friends, he got picked up by
Alternate. He has won the German EPS, is member of the German national team and achieved the worldwide #1 in the ranked stats. When he is not playing LoL and defending his place at the top, he likes spending time with his friends or practicing various sports.
in2LOL: How do you feel about your first match against
CLG? What are your chances in your opinion?
ForellenLord:
CLG.eu is definitely a really strong opponent. But we will prepare very well and we think that we have a chance to beat them. We will try to surprise them, but not by a Lux-Olaf pick, like we did last Gamescom. In LoL anything can happen, that's why I like it so much.
But of course we are the underdogs
How did you manage to get to such a high rating which also catapulted you to #1 in the current ranked standings?
To be honest, I never did anything 'special' to get this ranking. I can try to analyze my own playstyle to tell you how that happened. I do play the heroes I enjoy, because more fun= better results. Usually I practice 2-3 heroes at the same time. So I train these and try to play them in a row. For example 10 times Ap Nidalee. That really helps to find little tricks with each hero.
One of the most important things in soloq is to never flame. . Always stay calm and look forward not backwards. 95% of all LoL players have this flaming mentality. People always flame others, because it is easier to look at others and not at your own mistakes. And believe me, in any game you play you will make mistakes. Even me, or any other pro-gamer makes them.
What champions do you prefer to play in ranked/competitive games? Which do you dislike?
Champions with many disables are always good. I prefer heroes who can push and have a high range. A high range grants you control over a teamfight and the map, similar to globals. For example, Twisted Fate, Ahri, Orianna and Anivia. I dont like to play assassins or low range heroes, like Fizz or Ryze for example because they have to find a way to go in. If they can't, they are useless because they can get kited all day long.
Who is your favorite Duo-Queue-Partner? - And do you prefer to play Solo or Duo Queue?
At the moment I play alone, but I think duoqueue is easier to win, and the best role for my duoq partner is the jungle. Because jungle and mid need a lot coordination to be successful. I duoqueued with nilschillout some time ago. He always took Ashe and I took Twisted Fate, and we had perfect ganks on botlane. Or with Kottenx as either Shaco or Shyvana and me as Orianna or Twisted Fate. And Duo Queue, is, of course, more fun.
What are your expectations about the Season 3 with all its changes? How will it affect the community, teams and gameplay?
I guess everything will go into a next level of awesomeness. A bigger community, more teams, more heroes, more tactics, more events. I can't wait for it.
What is your mindset playing against Froggen on lane?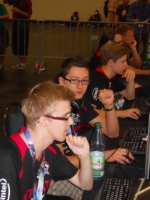 I thought a lot about Froggen in the last couple of days. The reason is obvious. He is a real solid player and mastered Karthus, Anivia and Ahri. I am not sure if he plays other heroes, but in the next days I will play and try to perfect my playstyle with the counterheroes. Watching tournament VoDs that
ClG are in does help aswell. He did win really often against me in the midlane, but I think I can beat him.
How much does it mean to you to be on #1 of ranked stats? How much do you care about it and what is your aim in the solo queue ranking?
It does of course push my ego. It is a good feeling to be #1 for such a long time. My aim is to reach the 3k mark. Then I can stop playing soloq forever. It is something many people recognize me for. But yeah, I don't overrate it.
Besides going far in the ranked rating by playing Orianna, you also play Twisted Fate often. Why don't other teams pick him in competitive matches?
I like to play Orianna because playing her feels different than playing any other champion. She is original and not a caster like any other. But back to Twisted Fate, his weakness is the laning phase. But with some help from your jungler he still is strong. And I don't know why he isn't played that often. Maybe he is underrated?
CLG.Prime or TSM?
The Rain Man or Dyrus?
Turret or Dragon?
First Pick or Last Pick?
Teemo?
Mars or Snickers?
Phreak?
Steak or Salad?
Movie vs series?
Song?
Froggen or Alex Ich?
CS or Kill?
Give someone a Pentakill /steal with a Troll-Face?
Anime?
Super Nintendo?
gamescom?
CLG.Prime
Dyrus
Dragon
Last Pick
Gay
Snickers
Riot
Both
Movie
need you–xkoro(ft. zoe)
Froggen
CS
Penta
Naruto
Mario
Awesome
Related Content: