in2LOL Interviews FnaticRC Cyanide
posted by
Linnykins
,
3 years ago
in2LOL was able to conduct an interview with Cyanide from FnaticRaidCall, who is currently in a bootcamp with his team in Sweden. FnaticRaidCall are practicing for DreamHack Summer 2012 and yet Cyanide bought some time for in2LOL before the
MMO Champions Tournament
started!
With recent line-up changes and a lot of tournaments around this time of year it has been unsure how FnaticRC would perform. Though they may have changed their roster, they have been doing well with a 5th-8th place in the Major League Gaming tournament in Anaheim this past weekend. They recently switched Peter 'Mellisan' Meisrimel for Patrick 'Pheilox' Walpuski as their support for MLG Anaheim, and the upcoming DreamHack MSI Beat IT tournament, because Mellisan will not be able to attend due to his studies. Mellisan is still a member of the team though and he will be rejoining his team once his schedule is not as full. That alone would be a fairly large change to the team, but they have also released Maciej 'Shushei' Ratuszniak from the team and replaced him with Paul 'sOAZ' Boyer who will be their new top-lane player.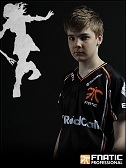 Lauri 'Cyanide' Happonen is 17 years old and from Porvoo, Finland. He has been part of Fnatic since their League of Legends team was created, and has played the game since shortly after the official release in 2009. Other than playing for FnaticRC he is currently studying in senior high and will do his matriculation examination on math, chemistry and English. Due to tournaments and practices he is doing most of his schooling from a distance.
At the moment FnaticRC is in Sweden for bootcamp in preparation for DreamHack. in2LOL were able to contact Cyanide because of their free access to computers, which is a change from when they were in the United States and unable to get online most of the time.
in2LOL: How did you end up joining Fnatic?
Cyanide
: At the start I got recruited into a team called "TopElo" at the same time as xPeke did, and at that time the team were Mellisan, Wetdream, Priest and Pingus (+ me and xPeke). After a while, the setup changed to Mellisan, Wetdream, xPeke, Lamia, Shushei and me. We then played under the name MyR, and we got recruited by Fnatic after our good performance at the first CeBit in 2011.
With the DreamHack MSI Beat IT tournament just around the corner, how do you feel going into this tournament with half the team being fairly new?
I feel confident, and I'm excited about the tournament. I am also a bit nervous though, since we are heading into the tournament with some fairly new teammembers and we have a lot of pressure to succeed and to show everyone that the change of players we had recently was the best decision for the team. We have tried to practice as much as possible lately and I think we've been improving, but I'm not sure if we are in a good enough shape and have had enough practice with this new setup to beat top teams such as CLG.eu and CRS.eu.
What expectations do you have for this tournament?
I don't know what to expect, it will largely depend on how the tournament groups will look. We will try our best and try to get as far as we can! I just hope we won't get CLG.eu in our group from the BYOC qualifiers since we have a bad history against them and I hate playing versus their passive playstyle. They just mostly play really safe and even when they are winning they push their advantage very slowly unlike other teams. I also feel that they are the strongest team in the European scene at the moment.
Cyanide with Mellisan and xPeke at Gamescom 2011
How do you think about your performance at MLG?
I think that we did okay considering the fact that we have got a new lineup, but I also feel disappointed about some of the games that we played (mostly the ones against Team Dynamic) which I think we just lost due to silly mistakes and I think we could have played those games better.
What could you have done better?
I think our picks were terrible when we were up against TSM. We went into the game too confident about our ability to not lose in the early stages of the game and took very strong late-game heroes while TSM ended up completely destroying us in the early-game. Against TSM we should have just picked better and focused more in the beginning of the game and be more aware of Reginald's aggressive play-style and the constant dives TSM were doing on bot-lane. The games we lost against Team Dynamic were just bad play on our part. We made a lot of stupid individual mistakes that piled up and lost us the game, and I really think we lost our calm there which just shows we need more practice.
What are your thoughts on your new top-laner?
I think sOAZ is really skilled but we need more practice since we sometimes lose games due to miscommunication and lacking teamwork. The reason of us having some communication issues is mainly because in the past sOAZ has been in French teams such as Millenium and aAa, so they have mostly been speaking French, and since he has to speak English instead it causes some communication issues, while the lack of teamwork is mostly because he is new to the team and we still have to get used to playing with him.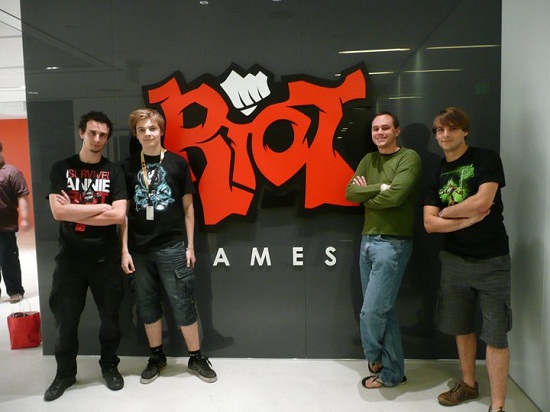 Cyanide with Kujaa, Phreak and Lamia at the Riot Games Office, 2011
Do you feel sOAZ is fitting in well with the team, both as a player and personally?
In my opinion he is one of the best top-lane players in Europe and I feel that he has a lot of potential, and even though I've been playing with him for only a short while I feel that he improves every game and learns from his mistakes, even with such a long history as a top-lane player. Personally, I think he fits the team well since we have a kind of weird sense of humor and he doesn't seem to mind it and is overall a great guy.
How are you doing at your bootcamp in Sweden?
We have won every single game we played together so far at the bootcamp, and I only lost 1 Solo Queue game. However, we didn't play M5, CLG.eu or Curse.eu yet so we can't really know what we should expect when we will play against them. I think we're doing well though, we're getting a lot of practice and we're improving and really working on the issues that we have right now.
And how are you liking the country itself?
I like Sweden; however since we are in such a small town there isn't much to do except enjoying the nature. Although, we are really busy at our bootcamp with practice and such so we hardly have time to go out anyway, sadly.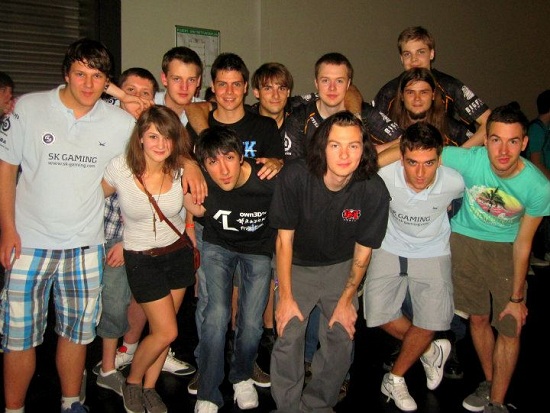 Gamescom 2011: Group-picture of a bunch of Pros, with Cyanide riding Shushei!
Some quickfire questions:
Nautilus or Maokai?
− Nautilus
CLG Krepo or Pheilox?
− Krepo, but just because I'm gay for him
Favorite movie?
− Gran Torino
Favorite female?
− You? Lol
Favorite country (of those you have visited)?
− The United States
Favorite food?
− Pizza
Thanks a lot for this interview and we wish you good luck in the tournament!
I'd like to thank all the fans for supporting us, and also the Fnatic organisation for believing in us. I would also like to thank our sponsors Raidcall, MSI, Steelseries and Eizo! And of course in2LOL, for providing the community with news all around the scene and this great interview!
Sources:
Picture Source
,
Cyanide Facebook Fan Page
Related Content: