Frost and Blaze Join CJ Entus!
posted by
Zeltoni
,
3 years ago
Recently, the gaming scene was surprised as Azubu announced the release of both LoL squads. Their new sponsor has finally been revealed!
Frost
and
Blaze
are to join
CJ Entus
.
The two top Korean teams
Azubu Blaze
and
Azubu Frost
have declared their departure from the Azubu organization. The reason for this is disagreements over the streaming hours Azubu.tv demanded which eventually led to
Blaze
and
Frost
's decision to leave. The contract expired on February the 4th and so they chose not to renew the contract. As a result of this they played their final matches for Azubu at the Hanyang University on February the 2nd in The Winter Champions Finals.
This means that
Frost
and
Blaze
, like other top teams before them like
Gambit Gaming
and
Evil Geniuses
, have to find a new organization. However, the unusual thing about this is that
Frost
and
Blaze
are sister teams, raising the question: will they find a new organization together, or will they each find a new organization and sever their previous ties? With their reputations, sponsors were lining up around the proverbial block to sign them. Finally, their new organization is official:
CJ Entus
will be their new sponsor. They will keep their old names, however we will see their logos changed to that of
CJ Entus
.
The new sponsors?
CJ Entus
wasted no time, as they signed a contract with the two teams the day after their previous contract with Azubu expired.
CJ Entus
has signed contracts with both of the teams, which means that
Frost
and
Blaze
will keep their manager, coach, their names and they will still remain sister teams.
CJ Entus
does however have a little problem to deal with: they have to look for a new place for their old players, since
Frost
and
Blaze
will replace the current team. The coach of Frost and Blaze has commented:
"Frost and Blaze have been going to too many foreign tournaments thus exposing their strategies, that is why their winter final result was not good. Once the Six Man system is established we can avoid that problem." The old CJ Entus team will serve as a bench for
Frost
and
Blaze
to use players from if they so desire.
Achievements of the teams
Both team have a great past and they will for sure reach extensive plays and milestones in the upcoming season – but to this day
Frost
hold the gold of The Champions Summer, second places at The Champions Spring and the Season Two World Championships. They have just finished The Champions grand final, where they sadly lost to
NaJin Sword
. Their sister team is not behind in achievements and is known to the whole world as well. They boast first places at MLG Summer Arena, MLG Fall Championship and The Champions Spring as well as a 2nd place finish in the recent IEM Katowice.
Azubu.tv
The launch of the Azubu.tv is a streaming platform like Own3D.tv and Twitch.tv, and it is meant to be a rival to Twitch.tv. They have already secured exclusive broadcasting rights for top team
Counter Logic Gaming
, coinciding with Azubu.tv opening a western office of their own in Santa Monica.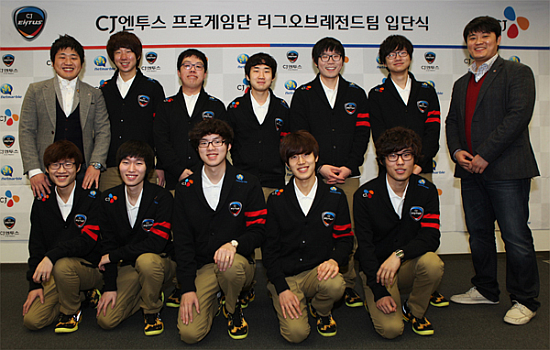 CJ Entus Frost Lineup:
Park '
Shy
' Sang-myeon – Top
Jung '
Rapidstar
' Min-sung – AP
Lee '
CloudTemplar
' Gun-woong – Jungle
Jang '
Woong
' Gun-woong – AD
Hong '
MadLife
' Min-gi – Support
CJ Entus Blaze Lineup:
Kang '
Ambition
' Chan-yong – AP
Shin '
Helios
' Dong-jin – Jungle
Ham '
Lustboy
' Jang-sik – Support
Kang '
Cpt Jack
' Hyung-woo – AD
Lee '
Flame
' Ho-jong – Top
CJ Entus Substitutes:
Kim '
LongPanda
' Yoon-jae – Top
Kim '
kkinsh
' Beom-seok – Support
Bae '
dade
' Eo-jin – AP
Choi '
InSec
' In-seok – Jungle
Seon '
Space
' Ho-san – AD
Yoon '
Eryuk
' Seung-taek - Jungle
Kim '
emboob
' Joon-seob - AD
in2LOL wishes both
CJ Entus
teams good luck with their new sponsor. What do you think about this organization change? Does it make these teams better? Share your thoughts in the comment section below!
Sources:
Source
,
Picture
Related Content: